April Tran (AKA "Picaroo")
On April 1, 2003, the Tran family went to the local pound in Houston County, Georgia. Before Kathy's mom even parked and turned off the engine, her brother, Tom-Vinh, spotted a white dog with brown spots. She was cowered in the corner of the outdoor kennel shaking and afraid while the other large dogs with her barked at her. Tom said immediately that that was the dog for us. As we inquired about the dog in the office, a lady exclaimed, "That's my dog!" She had just brought her pet to the pound and had not even had a chance to sign the paperwork to relinquish her dog. When she found out we were interested, she retrieved her dog from the kennel. We followed this lady home and she gave us all of the dog food and supplies she had. We saw that, unfortunately, she really could not care for her dog. Her dog lived in a small closet in the kitchen – she slept, ate, and used the bathroom in the same little area. It was heartbreaking.
We took our new family member home and Kathy's mom named her April as she came to us on April Fool's Day. She was already an adult when she became a member of the Tran clan. The veterinarian estimated that she was born in 2011-2012.
When April first came home, the hair on her ears fell in clumps with light touch, probably from stress or the bleaching shampoo her previous owner used. She also had intermittent seizures and was not housebroken. Kathy's mom was patient and persistent, however, in loving and training April and she became a healthy and happy dog! She is incredibly smart, mastering a number of tricks, including sit, down, shake, pray, and jumping through a hoop!
April has a total of five perfect spots – one over each ear (extending over her left eye), two on her back, and one over her tail. Of course we don't know for certain as she is adopted, but we believe that April is a Jack Russell terrier. She certainly has the energy and intelligence typical to the breed. She also looks like Wishbone the dog, the "little dog with a big imagination" who is the star of the 1990s television show. Wishbone daydreams about literary classics, imaging that he is the main character – maybe April does, too! Here's a comparison for you to judge by yourself…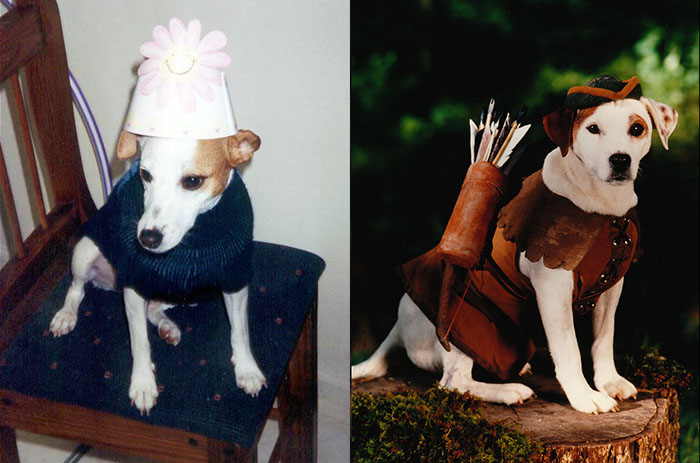 For over a decade until Kathy's mom passed, April was her faithful companion. Wherever Kathy's mom went, April followed (especially if that somewhere was the kitchen!). Even when Tom and Kathy moved away for college and work, April was always there. She kept Kathy's mom company every day and night, at home and on long road trips.
April currently lives with Tom in central Georgia! Check back soon for an album of very cute pictures of her!