April Tran (AKA "Picaroo")
Mời các bạn bấm ở đây để xem đài kỷ niệm của April bằng tiếng Việt (Please click here to read April's memorial in Vietnamese)
Early on Sunday, August 5, 2018, our dearest April Trần, also known as Picaroo, gladly went to heaven to join our mother, Huê Thị Trần (Mẹ), and our other beloved pup, Bucci Trần (Chi Chi). She passed away peacefully in the arms of Tom-Vinh Trần (Tý) with Kathy Mây Trần by her side, at the elder age of at least 18.
April joined our family when Tý spotted her in a group kennel at the local pound from the car window. She was cowered in the corner with the other dogs barking and jumping at her. We inquired at the desk and, by a miraculous coincidence, the prior owner was still present, having just relinquished custody. We went to retrieve supplies from April's prior home but were heartbroken to learn that since she was a puppy she lived confined in kitchen closet. Though she was fully grown, she had never received attention to be potty-trained or socialized. Hair fell out as we stroked her, and she suffered seizures in her first months with us. She had the Trần gene of resilience, however, and despite this early adversity, April soon became our happiest family member. Mẹ named her April because she came to us on April Fool's Day, April 1, 2002.
[Continue reading below. Photo gallery at the end.]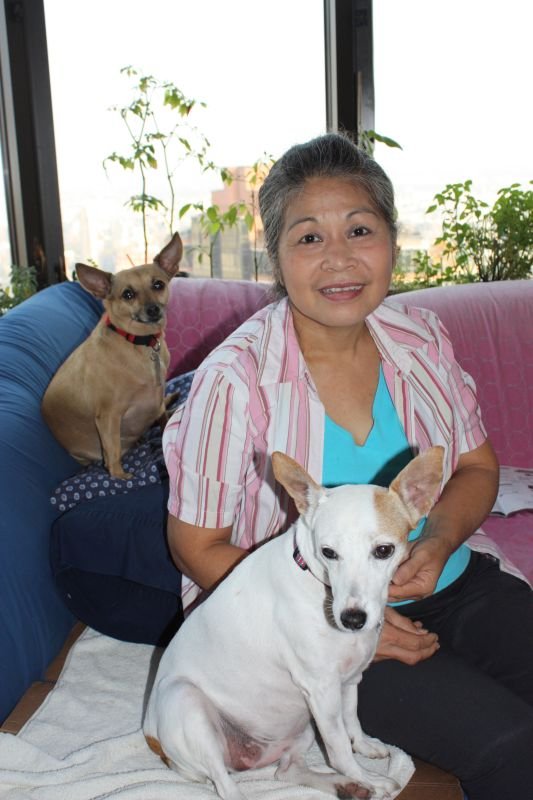 April is brave and protective. With our prior experiences with crime, we were grateful that April alerted us of suspicious individuals who approached by her bark and behavior. At the same time, she was friendly if she knew the stranger meant no harm. Through the years she was the necessary member of every family road trip. When we were poor and had to sleep in the car, we never feared our safety because April guarded us loyally. Her critical role in keeping us safe was particularly important during the long drives that Mẹ made alone between Georgia, Louisiana, Texas, and even New York and Connecticut.
April is loving and devoted. The moment we walked out of home, she would patiently await the moment we returned, and she would excitedly greet each of us the exact moment that we set foot across the threshold. Especially if we returned after a long time away from home, April could barely contain her glee. When we were home, she was never alone as she would follow us quietly from room to room (especially if it were the kitchen). She faithfully sat or napped by Mẹ's side, as she studied, cooked, worked, did arts and crafts. When Mẹ became ill, April was remained at Mẹ's side through every single appointment, chemo, surgery, and procedure. Mẹ credited her ability to tolerate innumerable treatments to her long daily walks with April and Bucci. Each amble would last many miles, during which they would recite countless Bible scriptures from memory. When Mẹ passed away, April and Bucci watched over her, holding vigil at her side to the very last moment.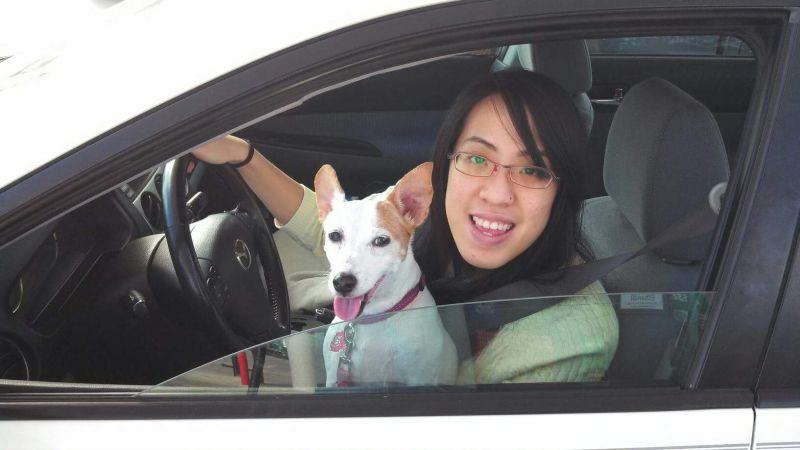 April is intelligent and resourceful. She mastered many tricks including sit, down, shake hands, up up up, round round round, leave it, here or come, outside, jumping through a hoop, and – our favorite – putting up her two hands to pray. She also mastered the ability to obtain treats from anyone and everyone no matter the circumstances, and her tummy guided many of her decisions. As Mẹ put it, "April would eat anything before it ate her." After Mẹ went to heaven and April lived with Tý, he cooked delicious healthy food for her on a daily basis, and she developed a particularly keen palate as taste tester to his many creations.
April is energetic and spontaneous. Her athleticism was a testament to her Jack Russell terrier roots. At our Habitat for Humanity house, she would sometimes escape, sprint gigantic bounding circles in the field across the street, and then promptly return home. Once in Houston, she slipped off her leash and independently explored the apartment complex, with Mẹ frantically searching for her. When Mẹ returned to the apartment to get car keys to continue the search, April was obliviously waiting patiently at the door to come inside.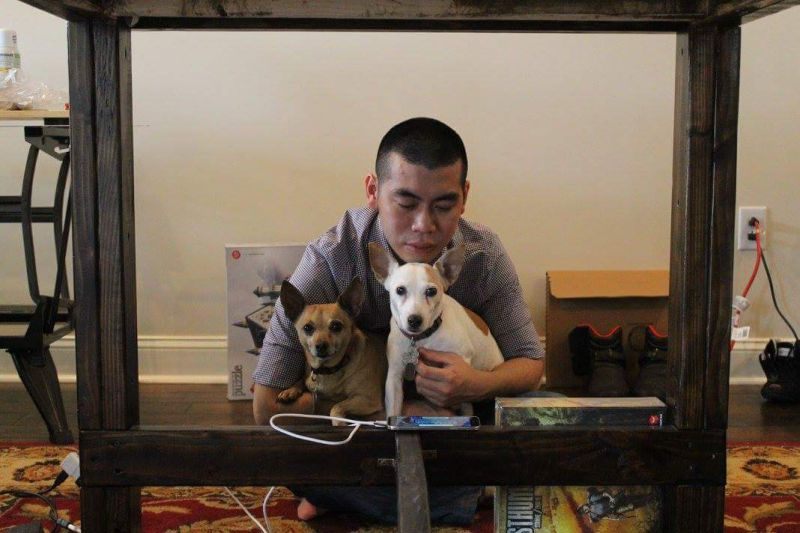 April is quirky and funny. Mẹ nicknamed her Picaroo, which is short for April. She has 5 perfect spots: one over each ear and her left eye, two on her back, and one on her tail. She is a celebrity lookalike to Wishbone, the "little dog with the big imagination" and star of the 1990s TV series who imagines himself as the main character of literary classics. When it is cold, she would paw at the top of our blankets to be let underneath. She slept next to Mẹ every night, but during the daytime and when Tý returned home, she slept with him. When she was scared or tired, she asked to be held by Mây on her hip like a baby. She was terrified of thunder and would shake like a leaf before we even realized a storm was coming. She dislikes baths but would stand quietly and obediently as she was scrubbed. She never howled unless she heard the theme song of "This Old House." Her reserved car seat is with whoever was front seat passenger, and she and Bucci spent hours looking out the window. She loved Mẹ, Tý, Mây, and Bucci more than anything else in the world, and showed it every single day. She is a good dog.
April will join her mother, Huê Thị Trần (Mẹ), and her sidekick, Bucci Trần (Chi Chi), in heaven. Mẹ, Picaroo, and Chi Chi will continue to watch over and patiently await the homecoming of April's brother, Tom-Vinh Tran (Tý) and his wife Trâm; her sister, Kathy Mây Trần and her husband Silas and pup Mimi; as well as a large and loving extended family.
God bless you forever, April. We love you always.