Here are some of the arts and crafts that Kathy May and Silas have produced over the years. Note their photographs are filed separately under "Photography."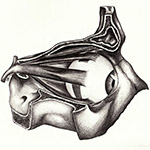 2D Art: Kathy's two-dimensional art includes graphite, pen and ink, colored pencil, watercolor pencil, watercolor paint, acrylic, charcoal, and pastel.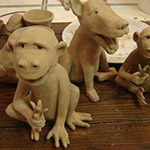 3D Art: Kathy has dabbled in clay sculpture.  See some of her experiments here.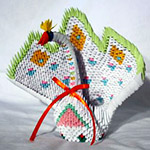 3D Origami: Kathy's mom, Hue,  taught her the art of modular origami. These are some of their creations.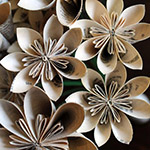 Paper flowers: Kathy's mom, Hue, also taught her the art of paper flowers, and Kathy has further developed the techniques.
Kathy's mom, Hue, taught her how to make the paper flowers and 3D origami in the links above. See below for some of Hue's other crafts. Additionally, come back soon to see albums of the artwork, woodworking, and other projects that Kathy's brother, Tom-Vinh, has created!