In continuation of our zeal to see as many National Park Service sites as possible (and building upon our cancellation stamp and map pins collections) combined with our efforts in getting-to-know our new Yankee home base, we made the short trek up the coast to spectacular Acadia National Park! With superlatives including the only national park in New England and the oldest one east of the Mississippi River, Acadia certainly did not disappoint and is now near the top of our list of all-time favorite National Park Service sites! The breathtakingly diverse Acadia National Park comprises magnificent rocky shorelines, majestic mountains, picturesque woodlands, and pristine lakes and ponds. Here are a few highlights from our adventures!
Arrival at Mount Desert Island
Acadia National Park is located just 4-5 hours north of Boston, in the "Down East" region of Maine. The bulk of its 47 thousand acres sprawls across Mount Desert Island (the rest lies on Isle au Haut and Schoodic Peninsula). Originally named "L'île des Monts Déserts" or "Island of the Bare Mountains" by French explorer Samuel de Champlain in 1604, Mount Desert Island has a modern-day pronunciation that is under much debate. Many Maineiacs retain the French fashion of stressing the second syllable (though with a different tone) and say "de-ZERT" (dəˈzərt), much like the noun of "sweet course eaten at the end of a meal" or the verb of "to abandon, fail, or run away." Others pronounce it according to the English pronunciation and say "DEH-zert" (ˈdezərt), much like the noun of a "dry and barren area of land"; the latter pronunciation is often used by visitors, too, purely because of the spelling. You'll find that the border between park grounds and commercial areas are blurred, so you'll never be too far from creature comforts while at Acadia.
Sunrise over Bass Harbor Head Lighthouse
Ancient glaciers carved out the fjord of Somes Sound which divides Mount Desert Island into two lobes: a popular eastern side drawing over 3 million tourists a year, and a more undisturbed western side often referred to as the "quiet side" of the island. At the southern tip of the quiet side, we awoke in the wee hours and scrambled across the rocky shoreline to relish in the first morning light at the Bass Harbor Head Lighthouse. If you learned about "signature" signals of lighthouses from our Nauset Light blog post, you'll be interested to know that Bass Harbor Head Lighthouse's signature signal is red light occulting every four seconds (three seconds red; one second off). If you're a photographer in search of spectacular sunrise snaps, please note that the accessible cliffs are to the east of the lighthouse; therefore, you'll see the sun rising opposite to the lighthouse not over it. A more iconic Acadian sunrise may be Cadillac Mountain (later in this post) though you'll have to share it with considerably more visitors than at Bass Harbor Head Lighthouse.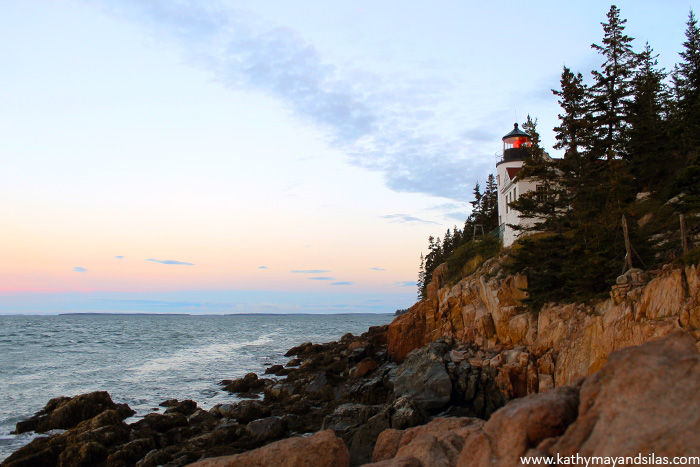 Ship Harbor Trail on the Quiet Side of Mount Desert Island
Also on the quiet side of MDI, we stumbled upon a fantastic 1.3 mile trail that was a real gem. The Ship Harbor Trail was a pleasant, easy, fairly level walk (even Mimi could do it; see video below) that took us through rapid changes in scenery, from roadside through pine forest, suddenly opening up into a peaceful cove of pink granite, and then to rocky coastline and the wide open blue ocean. Along the way, every section had a great deal to explore, including lush vegetation and wildlife, tide pools in the granite crevices, and panoramic vistas of trees, rocks, and water, in an intimate setting. As an alternative, you may also choose to add on the Wonderland Trail to the same trek; it is an equally easy hike of similar distance that is just half a mile east of the Ship Harbor Trail with similar views and terrain.
Dramatic Coastline of Ocean Path Trail Along Park Loop Road
The Park Loop Road is a one-way 27-mile drive on the east side of MDI where tourists oftentimes begin their adventures in Acadia. If you do not have a car, the National Park Service provides a free shuttle called Island Explorer which operates seasonally. Regardless, you should get out of the car and take advantage of the stunning Ocean Path, which runs alongside the eastern part of the loop. It is easy to see why Ocean Path is Acadia's most iconic trail, as it provides a sampling of the diverse terrain of the northeast, from its playful beaches to fearsome rocky cliffs to shady forests to scenic mountains. Expect to spend a disproportionately large amount of time to cover just 2 miles of trail. You'll find yourself exploring the nooks and crannies of the points of interest, including Sand Beach, Thunder Hole, Monument Cove, Otter Cliff, and numerous lookouts along the way.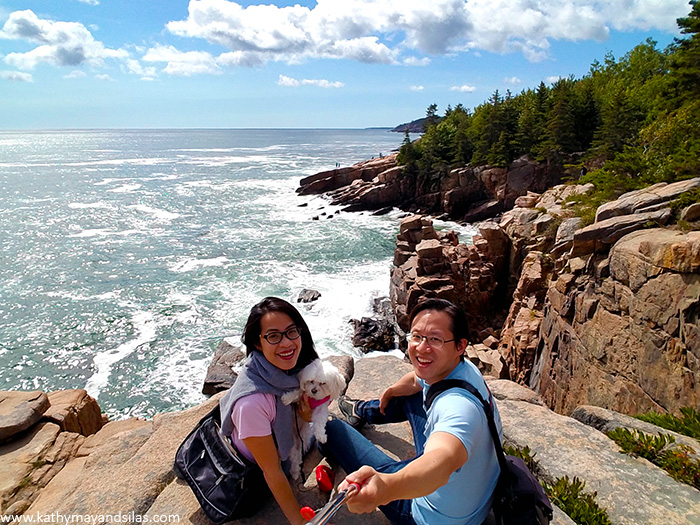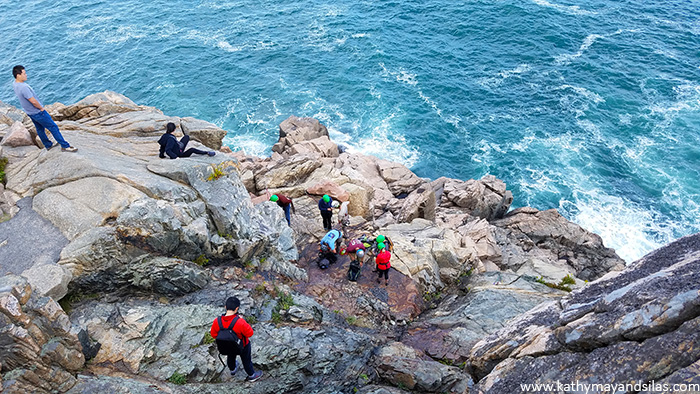 Glacier-Carved Landscape at Jordan Pond
Jordan Pond is a tarn, or a mountain lake that is formed as a glacier melts, with exceptional visibility as deep as 60 feet! The glacier whose pristine water now fills Jordan Pond and also supplies fresh water to the village of Seal Harbor was the Wisconsin Ice Sheet from approximately 2.6 million to 11,700 years ago. Historically, Acadia was a beloved summer retreat for the likes of the Rockefellers, Vanderbilts, Morgans, Fords, Astors, and Carnegies, and Jordan Pond was the central location at which they reportedly relished the view of the North and South Bubbles, two humps of mountains with many popular hiking trails.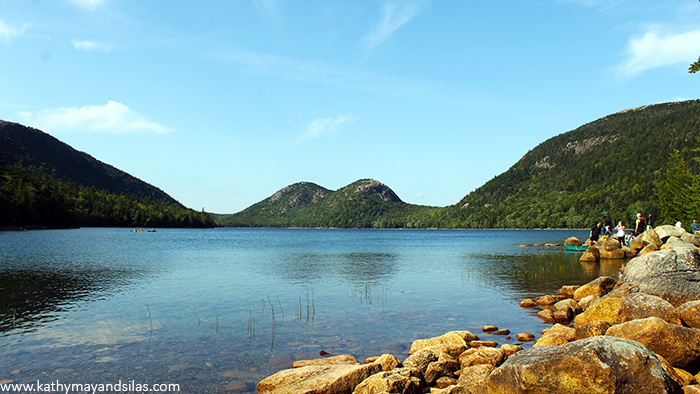 Sunset on Cadillac Mountain
At 1,530 feet, Cadillac Mountain is not only the tallest mountain in Acadia, but also it is the tallest mountain along the American Atlantic coast (the tallest peak of all the Atlantic coast is in Rio de Janeiro, Brazil). From here, one may view the first sunrise in the continental USA (as a technicality, this only occurs because the horizon may be viewed earlier from the elevation of Cadillac Mountain; the easternmost point in the continental USA to view the first sunrise is in Lubec, Maine; if you want to get more technical, then it's at Semisopochnoi Island, Alaska, which is west of the 180-degree meridian). Alas we did not see the sun rising over Cadillac Mountain, but we did enjoy the 360-degree panoramic vistas from the summit at sunset. The mountain itself is fascinating, formed by upward forces of volcanic and tectonic plates colliding, then sheared by monstrous glaciers, leaving behind deep gouges in pink granite and a rounded peak. Note that this location in Acadia is incredibly popular and budget more time than expected to travel and find parking along the 3.5-mile Summit Road. If you are not traveling by car, know that the free shuttle buses stop at the North Ridge Trail but do not go to the top of Cadillac Mountain. From that trail head, you can either hike or take one of two private buses with narrated tours.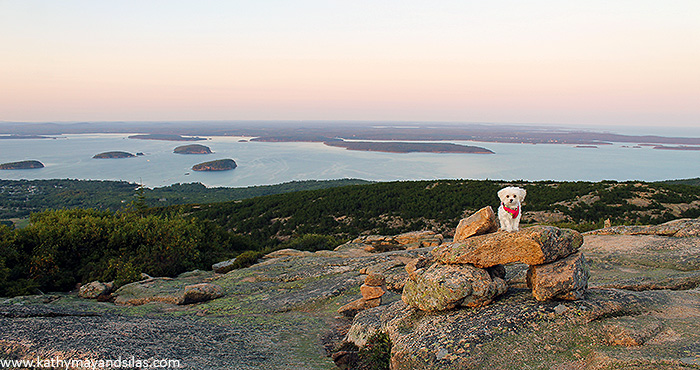 All in all, we had a splendid adventure at Acadia National Park and we look forward to experiencing it during different seasons in the future! Please stay tuned to our blog as we visit other national parks, monuments, historical sites, and more. Our past leaders have compassionately led the protection and preservation of treasures within the National Parks Service and, with current events, we are saddened that many of these sites are now at risk. We'll leave you with a quote by President Franklin D. Roosevelt in hopes that you'll support the National Parks Service and what they mean to our country:
"There is nothing so American as our national parks…. The fundamental idea behind the parks…is that the country belongs to the people."
Until next time,
Kathy May and Silas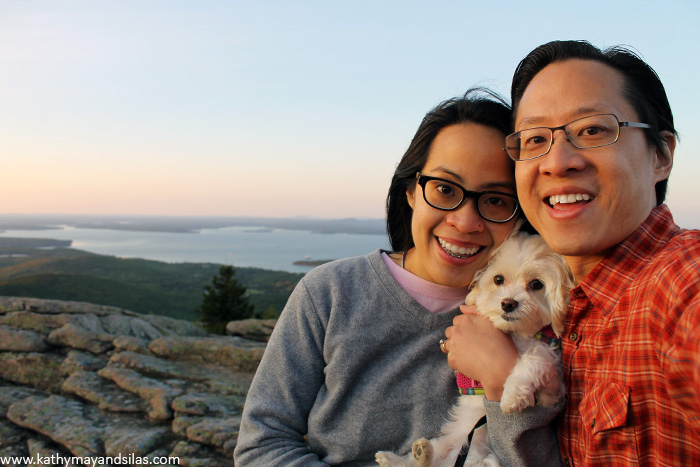 References:
National Parks Service
Acadia Magic by Greg Hartford
Joe's Guide to Acadia National Park