Hue Thi Tran: In Memoriam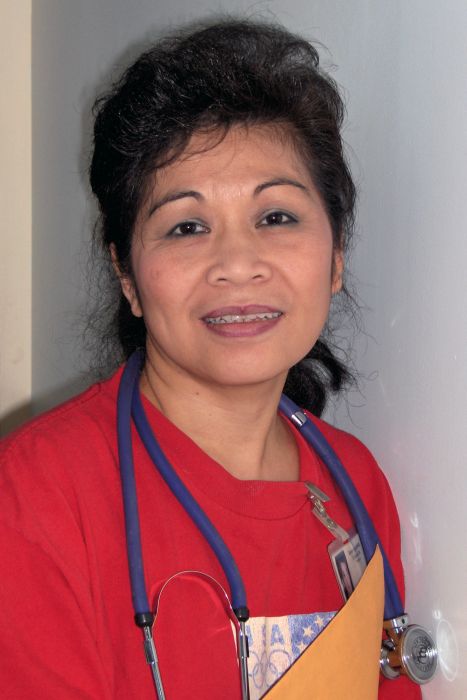 Mời các bạn bấm ở đây để xem đài kỷ niệm của Huê bằng tiếng Việt (Click here to read Hue's memorial in Vietnamese)
Huê, also known as "Whitney" and "Way" to friends, daughter of Christ, found peace in Him, surrounded by those she loved and who loved her, on December 1, 2014.
Hue was born in Saigon, Vietnam, on February 10, 1959 to Lien Thi Pham and Nuoi Ba Tran.
In 1977, Hue made the dangerous escape alone from Vietnam as one of the "boat people." She survived in harsh conditions in a refugee camp at Pulau Bidong, Malaysia. In 1980, Hue came to America and settled in Pineville, LA. Initially speaking no English, she found work as a custodian at Plantation Manor Restaurant, and was promoted to bus girl and then waitress after learning English from the menu and working hard.
Hue gave birth to her son, Tom-Vinh Tran, in 1986 and to her daughter, Kathy May Tran, in 1987 in Pineville, LA.
Hue and her children moved to Warner Robins, GA. She was a devoted mother who made tremendous sacrifices so that her children could succeed and be happy. As a divorced, single parent, she worked full-time while going to school at Macon State College, yet still found the time to drive her children to music lessons and rehearsals and to cook dinner every night. She never complained. On August 26, 2001, Hue and her children became homeowners thanks to the kindness of their lifelong friends at Habitat for Humanity. On April 1, 2003, she rescued a dog, April, who remained her constant and faithful companion throughout her subsequent journeys.
Hue persevered to earn her degree in registered nursing. She was a diligent ICU nurse and carried over her generous and compassionate character into her work. Hue served patients at Houston Medical Center in Warner Robins, GA, and Macon Northside Hospital and Coliseum Medical Center in Macon, GA. She was honored with the 2008 Frist Humanitarian Award, the highest honor from the Hospital Corporations of America, in recognition of her extraordinary concern for the welfare and happiness of patients and their community. Because she was so humble, Hue withdrew her eligibility from the nationwide award so that other award-winners could be more recognized for their good works.
Hue was a thoughtful, generous person who performed innumerable, immeasurable acts of goodwill but always chose to remain unnamed. Over the years, she and her children assembled hundreds of shoeboxes filled with school supplies, hygiene items, clothes, and toys to send to third-world countries through Operation Christmas Child. She volunteered with Houston County Habitat for Humanity and Warner Robins Food Pantry at First United Methodist Church. However, most of Hue's charitable deeds were unhistoric acts done quietly for family, friends, coworkers, and strangers. She always put the needs and wants of others before those of her own. Even though she was an inspiration to many, she had no dreams of being praised, instead always believing there was more good that she could do.
Hue prioritized family and faith. She was a blessed person who appreciated God's touch on every aspect of her life, including her adversities and illness. Her favorite activities were going to Bible study classes and memorizing Bible verses. Her favorite film was Gospel of John. Hue was showered with the support and love of brothers and sisters in Christ wherever she went. She had the honor of being in the congregations of Central Baptist Church and Vietnamese Baptist Church in Warner Robins, GA, Rice Temple Baptist Church and Vietnamese Baptist Church in Houston, TX, and Vietnamese Community Bible Church in Brooklyn, NY. In the midst of her chemotherapy treatment, Hue renewed her faith and was baptized at on July 29, 2012.
Hue's artistic and creative mind was well-known. She saw the potential for beauty in everything around her and enjoyed arts and crafts in her free time. She self-taught herself to crochet and made many clothes for friends and family as well as dresses for dolls. She collected plastic grocery bags and crocheted them into unique purses. She learned modular origami and made many origami sculptures.
In 2010, Hue was diagnosed with metastatic colon cancer. She moved to Houston, TX with her niece, Elizabeth "Ái" Tran, and received treatment at MD Anderson Cancer Center in Sugar Land and Houston, TX. In 2014, Hue moved to New York, NY with her daughter and continued her care at Memorial Sloan-Kettering Cancer Center. She fought valiantly and admirably for years with the Lord by her side until He called her home.
Hue was a loving, devoted mother who did anything and everything for her children and who can never be replaced. She was a hard-working woman who single-handedly brought her family up from poverty, and a strong force who overcame adversity to make a happy and simple life for herself and her children. In her kindness and selflessness, she saw to the needs of others before her own, in her personal and professional life. In her Christian faith, she took comfort in the Lord's word and found blessings in everything and everyone. She was and remains an inspiration who is loved and treasured by many.
From heaven, Hue watches over her beloved son, Tom-Vinh "Tý" Tran, of Macon, GA, daughter, Kathy Mây Tran (Silas Wang) of New York, NY, and dogs, April and Bucci. She is dearly remembered by her mother, Lien Pham of Pineville, LA; six brothers, Bình Tran of Alexandria, LA, Bính Tran (Mai Nguyen) of Pineville, LA, Phuong Tran of New Orleans, LA, Phong Tran (Lang Tran) of Santa Clara, CA, Vu Tran of Pineville, LA, and Cuong Tran (Tai Nguyen) of Long Khanh, Vietnam; sister-in-law, Clare Tran of Alexandria, LA; two sisters, Thin Tran (Dien Tran) of Alexandria, LA, Ngo Tran of Ho Chi Minh, Vietnam; nephews, Minh Tran, Vinh Tran, Quan Tran, Brandon Tran, Joseph Tran, Danny Tran, Devin Tran, Dylan Tran, Dane Tran, Daniel Tran, Phu Tran, Phuc Tran, and Phat Tran; nieces, Dung Tran, Hanh Tran, Nga Tran, Tram Tran, Mary Lan Tran, Dana Tran, Darin Tran, Drew Tran, Daryl Tran, Elizabeth Tran, Lily Tran, Loan Tran, and Lai Tran; and many grand-nieces and -nephews. She was predeceased by her father, Nuoi Tran, and brother, Dan Tran.
Always hoping to help others, Hue gave herself as an anatomic donation to science to New York University School of Medicine. She requested that we pray for each other and for others, and to do kind things for those in need whenever we think about her.
Click here to view the announcement that appeared in the Macon Telegraph.