In 2006, Kathy met Bonfietti-Csvihinka family during Chinese Adopt-a-Sibling Program at Yale (CASPY). The family had two daughters who were adopted from Vietnam and Kathy – a Vietnamese person herself – volunteered to be Lia's big sib. Jean, Gina, Lia, and Jaden expressed to her the need for more Vietnamese resources in the Greater New Haven community so that the girls and other individuals like them, would have an access point to realizing their biological heritage.
In the fall of 2007, Kathy founded A Learning & Interactive Vietnamese Experience (ALIVE) at Yale University to meet these needs. Jean deserves credit for the wonderful acronym of the organization, which described perfectly the sentiment we wished to convey. Gina was critical in participant recruitment and the planning for the group. Lia and Jaden contributed their unconditional support and enthusiasm.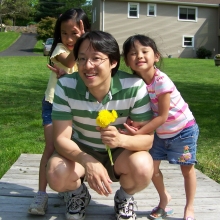 Every month during the academic year, ALIVE hosted two monthly programs. These activities are free and open to adults and children in the community. The Culture Days Program has hosted events such as celebrations of Tet (Lunar New Year), lion dances, and performances by artists from Vietnam. Other activities also include making goi cuon (Vietnamese summer rolls), learning Vietnamese Christmas carols, storytelling, and a number of arts and crafts projects. The Language Lessons Program is designed for individuals of all Vietnamese language proficiencies. ALIVE's mission in this sub-program is to teach applicable language skills.
ALIVE became a central aspect of Kathy's Yale experience. The people she met became her friends, mentors, inspirations, and parents at our home away from home.
ALIVE continues to serve the Greater New Haven community. Please visit the ALIVE website for more information about the program and what great things they are up to today.